VIKY - Motorized Endoscope Positioner and Uterus Positioner
Description
Specifications
Documents
Order Info.
Control at the command of your voice.
VIKY provides the surgeon the control without the help of an assistant, of the endoscope position (VIKY EP) or the uterus (VIKY UP) directly.
VIKY EP Laparoscopy under control
VIKY EP is a motorized endoscope positioner for laparoscopic surgery. You are now in command of the camera's position.
VIKY EP improves the quality of endoscopic images:
Provides stable and reliable view of the operating field.
Eliminates camera shake and associated eye fatigue.
Limits contact between the endoscope and the patient's organs.
Memorizes key positions of the endoscope for easy repeat procedures.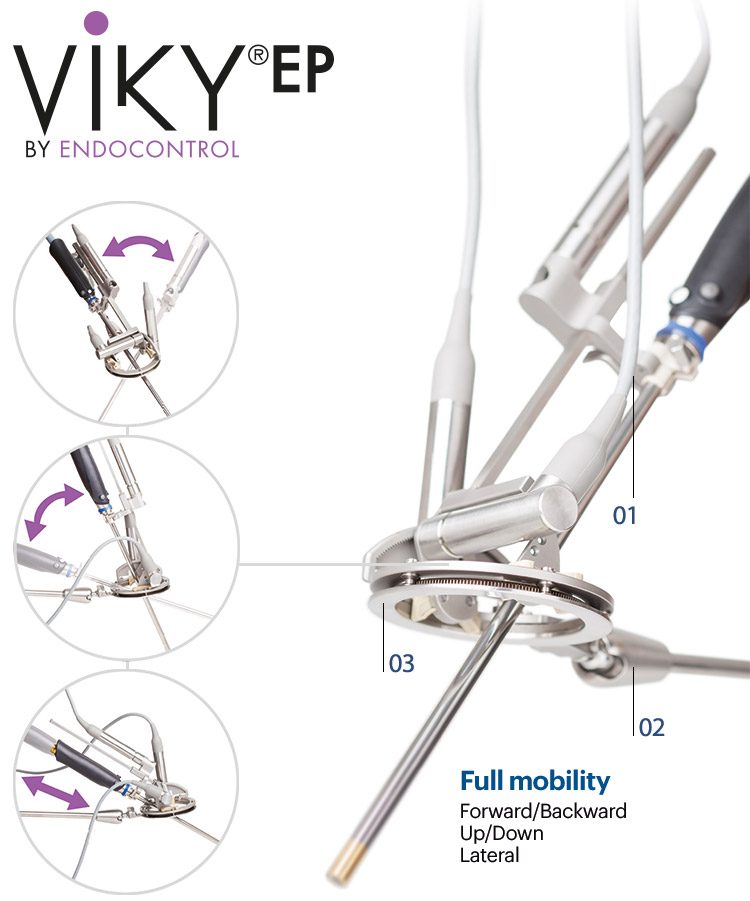 01. Fully compatible with all types of endoscopes and trocars
02. Easily fixed onto the operating table rail
03. Available in 3 sizes: XS - M - XL depending on clinical applications
VIKY EP Clinical Applications:
Gynecological, urological and general laparoscopic surgery with VIKY M
Pediatric and thoracic laparoscopic surgery with VIKY XS, with a smaller diameter
Single-port and singleincision laparoscopic surgery with VIKY XL, with a larger diameter
VIKY UP Safe Gynecological Surgery
VIKY UP is a motorized uterus positioner for gynecological laparoscopic surgery. You are now in command of uterus positioning.
This system offers the advantages of robotic surgery without changing your operating practices.
VIKY UP improves the quality of uterus positioning:
Optimum uterus mobilization (anteversion, retroversion or lateral exposure).
Proper traction is maintained on the uterus for accurate dissection and to keep unwanted structures out of the operating field.
Memorizes key positions for effective uterus mobilization.
VIKY UP Clinical Applications:
Hysterectomy
Myomectomy
Sacrocolpopexy
Endometriosis Treatment
Testimonials from Surgeons:
Pr Brice Gayet, digestive and hepatobiliary surgery
Institut Mutualiste Montsouris (Paris, France)
"Laparoscopy is a real challenge, especially as it is moving towards increasingly complex and long procedures. With the VIKY EP system, I can overcome all endoscope-related issues: shaky images, lack of position control, and fogging or soiling of the endoscope lens. Indeed, after a few hours, it is impossible for a human assistant to maintain the position of the camera.
The VIKY system frees a hand in the O.R, which leaves me with more space to work in and allows my assistant to do other tasks while I am operating."
Dr. John Dulemba, gynecological surgery
Forest park Medical Center (Frisco, USA)
"Working with both robots makes it easier to operate since I can control the camera, the instruments and the movements of the uterus positioner. VIKY provides a perfect view of the patient's uterus. The uterus is grasped firmly and proper upward traction is maintained throughout the procedure. The system's voice control means I can stay focused and work steadily, as I can position the uterus exactly how I want it, without having to get up from the console or continually ask my assistant to readjust the position."